We offer 3 levels of home entertainment installations.
Simple, affordable solution for home audio distribution. Volume controls and stereo speakers in each location. Once the entertainment system has been turned on and you've chosen the source, you can now control the volume at each location from off to full volume.

Russound A-bus. An affordable solution to giving you more control and choices to what you listen to throughout your home or office.

Russound CAV6.6 or CAM6.6. A complete affordable audio / video distribution systems for home or office.
We offer a full line of Proficient speakers to finish off your audio system.
Audio / Video Systems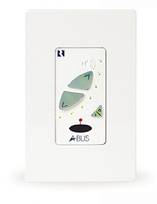 Russound Abus with A-KP2 Amplified Keypads

The A-KP2 is the efficient alternative to clunky old mechanical in-wall volume controls. The A-KP2 is an electronic volume control, an infrared control and high quality stereo amplifier in one simple to operate keypad. Along with the A-H484, 4zone 8 room 4 source distribution hub, you can distribute 4 different audio sources to 4 zones throughout your home. Each zone can support 2 keypads giving you the ability to expand up to 8 rooms. The basic kit comes with 1 Hub, 1 remote control, 4 keypads, power supply and associated hardware to connect into your audio system. Listen to radio in 1 room, CD in another, cable or satellite stations in another all at the same time. 4 different sources of music in 4 different rooms, controlled right from the room keypad. This is a great and affordable entry level system to home audio control.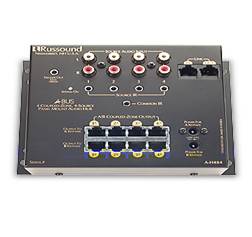 .
Russound CAM 6.6 systems: with Uno S1 or S2 keypads
The Uno keypad is the state of the art convenient control system for all of your audio distribution needs. Ergonomic experts agree the most important component in a multi-room system is the user interface. So the need for style, as well as intuitive ease of use, cannot be overemphasized. Russound design engineers have worked relentlessly to create a performance keypad with power, flexibility and convenience. The result: UNO-S1 & S2. These are some of the industry's most attractive and intuitive keypads - brimming with features. Tune the keypad to one of Russound's source selections & sit back and enjoy a classic multi-room audio experience. Russound offers several compatible source selections to give you endless choices and diversity throughout your home or office. Listen to up to 6 different sources in 6 different locations at the same time. See info below on source equipment.
Russound CAV6.6 with UnoS2 or S1 keypads
.
Distribute 6 different sources of audio and or video to 6 zones + 4 sub zones. You can have a 10 room audio / video distribution system that is easy to use and enjoy. The CAV6.6 incorporates video sources like cable TV, DVD players, Satellite dish etc. to be distributed throughout your home or office.
Visit the Russound web site to get more in depth information on what's available.
www.russound.com
UNO S1 UNO S2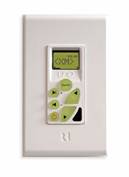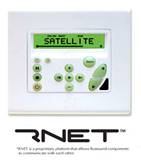 CAM6.6 CAV6.6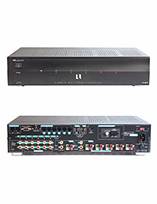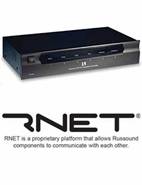 Russound Source Equipment:

Russound dual tuners come in several combinations. If you're a satellite radio fan, or just Am/Fm, you have a full array of choices and combinations to fit your needs.
The tuners use a proprietary RNET platform to provide a smart tuner option for the UNO keypad, with easy operability and intuitive feedback. Right from the keypad, the end-user now has ready access to frequency, Station ID, preset or memory information- all in real time! Want more than two radio choices in a Multi-Source system? Just add a second tuner for added flexibility and convenience, or add their triple source digital media server. Burn all of your CD music to their 160 or 250 Gig hard drive versions and have all of this available throughout your home or office.
Dual Tuners: Am/Fm – Am/Fm Triple source digital Smart Media
Am/Fm – Xm Server.
Am/Fm – Sirius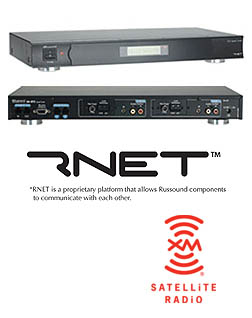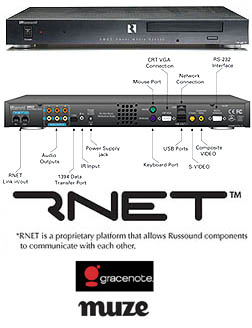 SMS3 Smart Media Server: The Russound SMS3 Smart Media Server stores and manages your music and digital images providing easy retrieval from virtually anywhere in the home. The SMS3 can intuitively supply three different sources of music simultaneously, making it ideal for use in a high quality Multi-Source/Multi-Zone system. When used with a Russound CAV/UNO-S2 system, the artist, album, and song information is delivered directly to the user via the UNO display. Shipping August 2004.

The SMS3 comes complete with a CD-ROM drive, internal 160GB or 250GB hard drive and an Ethernet connection that allows you easy access to your music and digital media and to enjoy it conveniently throughout the home. Additionally, the on board CD ROM drive allows the server to be used as a CD player, whereby during play the server rips files automatically and at the conclusion of play, offers the listener the option of storing the session on the hard drive.

Among the many unique features of the SMS3 Media Server is the convenience of organizing your music by mood, activity or playlist. While listening, you can easily rate your music within each group enabling the server to anticipate the user's musical interests. In addition, the SMS3 utilizes Gracenote (aka CDDB) and MUZE an online database for automatic Metafile retrieval, which provides the user with useful information such as track, title, artist and even album art. The integration of the RNET plug and play system provides seamless operation with Russound RNET enabled Multi-Source/Multi-Zone systems.