At Futuristic Home, we took a close look at this industry and had to make some important decisions.
How do we offer an automation system to EVERYONE. That means: low-end, middle of the road, and high-end installations. From 1st time novices to experienced and well researched experts.

How do we guarantee the installation will work consistently with confidence

How can we explain the incredible value of the system

How can we guarantee you will be able to use it the first time, every time with confidence

How can we guarantee that you will never loose control of your lighting, heat or air conditioning systems.

How can we say with confidence, that your automation system will be the very best, be easy to upgrade, and be around for years to come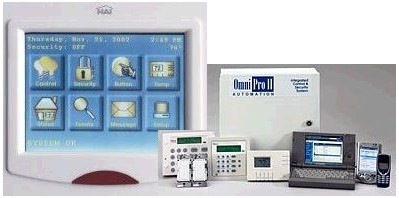 H.A.I. Omni products was the answer! Here is a company that has been receiving top industry awards for years on their very reliable, user friendly, powerful, home integration controller. They bring together all of your operating systems into one package.
Security
Lighting
HVAC
Sprinkler controls
Temperature and humidity controls
Water flow monitoring
And much more...
The only thing that limits what you can integrate with the Omni line of products is your imagination. Their controllers seamlessly integrate with a plug and play connectivity with just about any worthy product on the market today.
What can H.A.I. Omni products do for you?
Your household has a pretty set repetitive schedule. Through a series of simple programming, a repetitive set of commands will occur on the days and at the times you choose to set lighting and HVAC levels to wake up, settle in, or put to sleep your home. Your plans change one day and you come home earlier or later, get hung up shopping longer than expected. What do you do? You can call your home from any phone, access your home from your computer at work, call from your cell as you pull up to the house, and with a simple command set your home into the condition you want it in when you walk in. Security OFF, Light levels set, HVAC set, house audio on. It's endless. You no longer have to leave heat or A/C on or lights burning because you don't know when you're getting home. How about trying to leave in a hurry. How many lights do you have to turn off, thermostats to set back, security to set, entertainment system still on???? How about send one command from the Omni system and it puts your home into an away mode of your choice. How about bypass security in garage and open garage door for deliveries or repairmen, from work or your car. Again, the possibilities are endless and can all be accomplished with H.A.I. products!
Omni RC80 Thermostats and Remote Temperature Sensors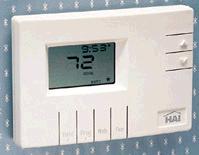 You can monitor and adjust your home's heating and A/C system. You can operate the thermostat directly from it's simple keypad features, or remotely from any phone, serial linked computer, or an external Web linked computer.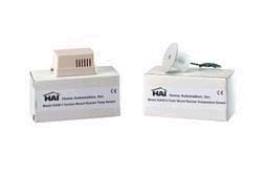 You can place invisible temperature sensors in place of your thermostats, and install all thermostats in control room to keep walls clean and uncluttered. Or just hide them in a closet or inconspicuous place. Monitor and use outside temperature and humidity to send info to your HVAC system. Achieve maximum comfort, lower utility bills, and have quicker more convenient control of your home.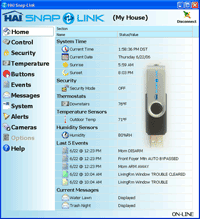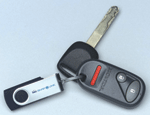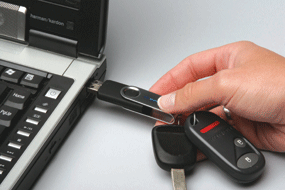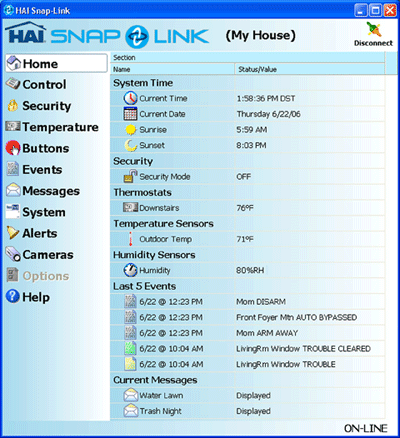 Snap Link is a great new way to access your HAI system via the Internet. Snap Link allows you to monitor and adjust settings for lighting, heating and air, security, and appliances
HAI's Snap Link will work inside a home on a single PC, and with a group of PC's on a local network. It also takes advantage of the full-time Internet connection provided by popular cable modems and DSL. These connections, combined with Snap Link's intuitive, easy to use pages make it quick and easy to check on the house with video surveillance, verify the kids have arrived home from school via email notification, and adjust the temperature right from your office PC, PDA, or web-enabled phone.
HAI Snap Link runs on a web server connection on a portable USB drive, that can be plugged into any computer anywhere on a broad band internet connection. Once the drive is removed, all links and information goes with it. There is nothing left on the local host computer used to create the temporary link. It interfaces seamlessly with HAI Omni IIe or Pro II class controllers. HAI's Snap Link device generates Web pages from the controller's data that can be viewed locally and on any networked computer via Internet or Local Area Network. After initial set up of the Snap Link device, it is ready to go. You can have one for local connection within your home and one for when you're away from home. It's all done in the initial set up.
Snap-Link is sold WITHOUT any subscription fees. It uses 128 bit encryption, which makes it vastly safer than other products that use web pages over non-encrypted connections.
Check out CE Pro's editorial on Snap Link!
http://www.cepro.com/news/editorial/14080.html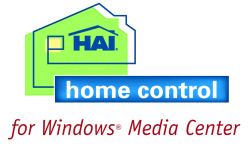 HAI Home Control for Windows Media Center makes changing lighting, temperature, and security as easy as changing channels!
HAI's new Home Control for Windows Media Center is software for Windows Media Centers that allow you to control all of your HAI Omni features from the comfort of an easy chair using a single Media Center remote.
HAI Home Control is software that runs on a Windows Media Center computer for controlling lighting, temperatures, and security on a television using a single Media Center remote control. A Windows Media Center coordinates music, television, and home photography for an enjoyable home entertainment experience. HAI's Home Control coordinates security, temperature, and lighting for comfort, convenience and safety.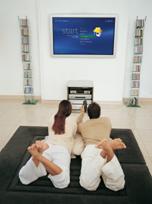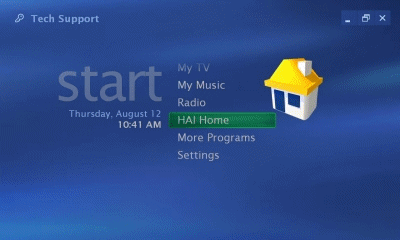 This product has received the following awards: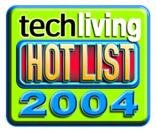 Omni Touch screen upgrades: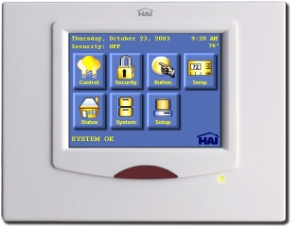 Home Page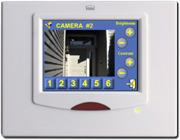 Video screen Audio Screen
This colorful "plug and play" touchscreen interface for Omni-family controllers facilitates graphical control of security, HVAC, lighting and other home control functions via easy-to-recognize icons. The unit features a 3.9 inch color, touch sensitive LCD screen with backlighting that adjusts automatically to ambient lighting conditions and turns off when not in use. The two-color LED offers status at a glance, and there are selectable keyclick and beeper functions.
The touchscreen unit mounts flush with the wall, and is supplied with a white, beige, and almond faceplate that is a slim 3/8 inch for an elegant built-in look. OmniTouch works with OmniLT, Omni II, and OmniPro II. It connects to 4-wire console bus on the controller. This is a great upgrade feature from the standard keypad type console.