Professional monitoring services give you that added peace of mind that you, your family and your possessions have the best protection possible. Futuristic Home inc. uses only the best – Rapid Response Monitoring. And here's why: Along with 24/7 monitoring that can be set up according to your call back and response preferences, you have access to your entire account activity and information on line, any time. Check to see how your account is set up. Monitor your account activity and view the documentation of each event that occurs.
Power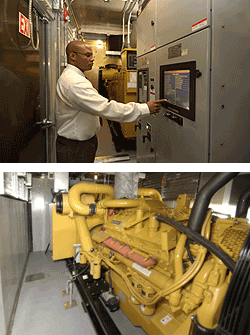 Generators
Rapid Response even backs up it's back-up power: Dual Caterpillar generators are locked down in an environmentally secured enclosure that protects in every way the custom designed, digitally controlled, fully monitored 600 kw diesel generators. The generators have independent 1200 gallon fuel tanks and seamless switching so there is never an interruption of power.
UPS
Rapid Response has added another layer of reliability with dual Liebert 150 kVA UPS (Uninterruptible Power Supplies) which are each capable of supporting the full critical load of the monitoring facility.

Telecom
Redundant Phone Switch
There is little more critical to security monitoring than continuous communication. Rapid Response Monitoring has taken every step possible to be sure that communication with our Monitoring Center never has an interruption. Rapid Response's Avaya Definity G3R Version 11 Communication Switch with critical reliability option. This switch has dual processors and redundant fiber optic links between carriers for greater dependability, and is designed to stay on the job even if other components should fail.
Rapid Response's telecom system's primary power source is DC, further backed up by two UPS (Uninterruptible Power Supply) units and dual CAT generators. Rapid Response's investment in the best available telecommunications technology virtually guarantees that your calls will get through, no matter what the circumstances.
Reliability- Three Times Over
Rapid Response offers TRIPLE Telecommunications back-up. Utilizing four national service providers (MCI, PaeTec, Sprint and AT&T) as well as a pair of local providers, our multiple T-3 circuits from each telecom provider enter the monitoring facility through a fiber optic Synchronous Optical Network (SONET) architecture: One provider's two T-3s enter from one access, while another enters the center's network from a separate point with its own independent T-3s. It is mission critical reliability with triple back-up.
Computer Systems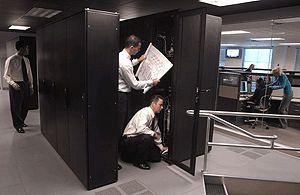 Computer Network Redundancy
Rapid Response has spared no expense in assuring that the computer systems handling the critical information for our Dealers and their subscribers have uncompromising security. Our multi-layered alarm processing redundancy is built on a full gigabit fiber optic backbone. Workstations communicate via Cisco 2950 series hubs with redundant fiber optic links, connected to a pair of Cisco Catalyst 6509 core switches with a duplicated processor and power options package. Two IBM 7025-6F1 AIX servers with dual gigabit network cards and dual power supplies maintain real-time, RAID 10 lockstep mirroring.
Additionally, six IBM F50 AIX servers minimize the main servers non critical task loads. Two servers continually update data at the application level for quadruple redundancy.
Network Security & Crypto Server
In this day and age, more than a power outage can bring down an information network: Physical security is not enough. Rapid Response utilizes the best network security available to protect all data communications. Rapid Response's network security includes dual NetWolves WolfPac firewall servers- impenetrable to outsiders- and redundant Blue Ridge crypto servers that create a VPN (Virtual Private Network) "cryptographic tunnel" for external, remote access. Rapid Response's servers additionally run top-of-the-mark anti-virus and anti-spy ware applications to assure that all data and information systems are secure and free of any cyber threats that could interrupt or compromise the network
Certifications




Rapid Response is certified by Underwriter's Laboratories for:
UUFX Protective Signaling Services Central Station
CRZH National Industrial Security Systems
CVSG Mercantile Burglar Alarm Systems
In addition, signals are processed by an automation system that has been field evaluated and labeled by U.L. for compliance with UL 1981.
In addition to being UL & FM listed, Rapid Response is also certified to comply with the stringent regulations required to monitor fire alarms in the New York City's Five Boroughs. Rapid Response is annually visited by the New York City Fire Department, whose inspector administers the Central Station Signaling System exam. Our personnel have a 98% passing rate on the examination.