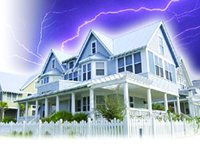 Your home is your largest single investment and a significant amount of time will be spent in designing and constructing a home that is unique to your lifestyle. When completed, you hope that your selections and the professional skills of your builder will result in a happy and secure environment for your family.

How Secure Are Your Home Electronics & Appliances?
Electrical surges originate from a variety of external and internal sources. These external damaging surges include lightning and power utility switching. Surges can also be generated internally by heating and air-conditioning units, lighting, kitchen appliances, pumps and motors, garage door openers, hair dryers, and other electrical appliances.

Avoid Inconvenience & Expensive Repair Costs
Your home appliances and electrical equipment can create large surges which can damage a home theater system or corrupt the files on your home computer causing unnecessary inconvenience and expense. Surges can also enter your home through the telephone or cable service provider's connection.

Extend Your Equipment Life
The need for protection against electrical surges in your home has never been greater. Without adequate surge protection, your digital home electronic equipment could be damaged or destroyed. To protect your home and isolate surges from your expensive electronics, install a Total Protection Solutions™ Residential Surge Pack™ (RSP) today.

What is a Total Protection Solutions™ (TPS) Residential Surge Pack™ (RSP)?
The TPS - RSP is a series of surge protection products designed to protect your new home and its valuable electronic equipment and appliances from damaging electrical surges. By installing the TPS - RSP family of surge protection products during the construction of your new home, you can feel the security and reassurance that your home is protected by the most reliable residential surge protection available.
Residential


Each year transient voltage surges impinging on home wiring and electrical/electronic devices are responsible for over $500 million in US residential property insurance claims and an even higher amount of European residential insurance claims. Over half of all residential losses related to transients can be directly attributed to the repair or replacement of TVs, stereo systems, home office equipment, kitchen appliances, home security systems, satellite receivers, garage door openers, and laundry equipment.

While about 20% of all electrical problems are the result of external events such as lightning, and utility grid switching actions, over 80% are caused by events occurring inside of the house. Automatic events such as the air-conditioner kicking on, or the refrigerator compressor turning on to keep the refrigerator cold as well as simple homeowner actions such as turning the lights on and off can cause transient voltages. Over time these transient voltage surges degrade and/or destroy electronics. How long it takes a surge to degrade your precious electrical/electronic possessions depends on the size and source of the surges. If lightning is the source then a large portion of your electronics (perhaps even all) can receive major damage or be destroyed in well under a second. While normal air conditioning cycling can take several years to degrade your other electronics enough to cause their failure. Even though you cannot see, or hear the attack and may not even realize it is happening; your stereo system, home computer, television, VCR, microwave oven – everything with internal electronic circuits -- are under siege all day every day. The attacks are silent, but destructive. Further, surges do more than destroy appliances and electronics, they degrade and/or ruin electrical outlets, light switches, light bulbs, air conditioner components, and garage door openers.

How can you protect yourself? Individuals seeking to preserve their hard earned money, prevent damage to their precious consumer electronics, and prevent insurance claims that can raise their insurance rates plus will cost them their deductible should call their local Total Protection Solutions distributor today.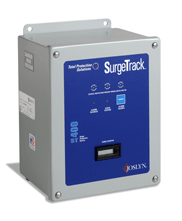 SurgeTrack™

ANSI/IEEE C62.41 Categories A, B, & C

Ideal for main service entrance, distribution panel and branch panel applications. SurgeTrack products are the choice for main servcie, distribution panel, and branch panel applications. Compact design offers easy installation. The optional enhanced transient filter will extend your equipment life and reliability.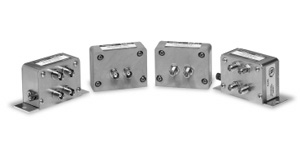 · Provides surge protection against harmful transient voltages that exceed the nominal operating voltage of coaxial line applications
· Each line is protected against surgecurrent impulses up to 10kA/wire
· UL Listed 497B as Isolated Loop Protector
· Compact footprint allows installation flexibility
10-Year Unlimited Free Replacement Warranty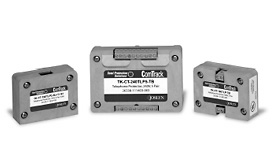 · Provides surge protection against harmful transient voltages that exceed the nominal operating voltage of telephone line applications
· Each line is protected against surge current impulses up to 2kA/wire
· UL Listed 497A as Secondary Telephone Protector
· Compact footprint and universal
mounting bracket allows installation flexibility
· 10-Year Unlimited Free Replacement Warranty
Total Protection Solutions
Industry Leading Warranty
Quality and Performance First
Total Protection Solutions™ products were developed with one mandate— quality and performance first. Our quality products maximize protection of your valuable equipment and operations. We support our quality and performance commitment to you by supplying the best warranty in the industry. We even offer an optional Lifetime Warranty on certain product lines.
QUALITY AND PERFORMANCE

Our products meet or exceed industry guidelines for product safety and performance. TPS products are manufactured by Joslyn in the United States and tested by an independent, NVLAP-accredited laboratory
TPS products are designed in compliance with these industry standards:
UL 1449 Listed, 2nd Edition
UL 1283 Listed
UL 497A and 497B
cUL File
CE – Low-voltage directive and EMC directive.
Telcordia (Bellcore) TR-NWT-1011
NEMA LS-1
TPS Standard Product Warranties Are Unmatched