Whole Home Audio
Room Keypad 4 Room
4 source system
Simply press the knob to change music sources. Turn the knob to adjust volume, and press the knob and hold it to adjust bass, treble, or turn the entire system on or off. The blue display shows the source and volume level. VSC's act as an infra-red repeater for source component control. Simply point the source's remote at the VSC and it will route the signal back to the original source component.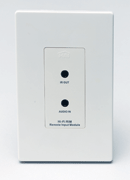 Place Remote Input Modules (RIMs) in rooms that will have music sources that you wish to use. When you plug any music source into a RIM using a standard stereo input jack it can be shared with any room that has a volume and source control (VSC). Additionally,
RIMs
feature a routed IR emitter jack and include a flasher to allow you to use the remote of your source equipment in any room that has a VSC.
Remote Input Module
Hi-Fi Expansion Kit
This kit expands the Hi-Fi Whole Home Audio System from 4 Zone, 4 Source to a full 8 Zone, 6 Source.
Includes 4 Zone Amplifier Cards, 4 Volume Source Controls, 2 Remote Input Modules, power supply, manuals.