The physical part of computer networking is accomplished through the structured wiring and Ethernet routers installed in the Future Smart panels. We offer an array of services from our talented staff in the following areas:
Installation, set up and networking of all your computer equipment

On site training is available to teach from basics to advanced levels

Advice on what equipment to purchase to fit your individual needs

VPN routing, wireless networks

Remote automatic reboot system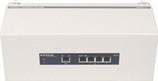 8 Port 10/100 Base-T Ethernet Switch Module

Used to create a Local Area Network (LAN) by connecting up to 8 computers, printers, scanners, etc. Supports data transfer speeds up to 100 Mbps Stackable, Bridgeable 12" form factor Compatible with QuickNetwork series distribution panels. This hub offers additional ports to be able to add more than 4 computers online at the same time or just network additional equipment throughout the home. Today, there are many audio and video devices that are network compatible. By putting them on the network, they become accessible throughout your home. Appliances are starting to be produced with network connections. It is practically becoming endless how many devices throughout your home are and soon will be all networked together.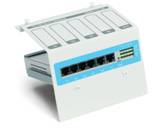 Web Safe Internet Router 10/100 base-T

This is a web safe internet router that includes a built-in 4 port, 100 Mbp router and an uplink port to add additional routers or switches. Ethernet switch, content filtering and hacker protection. 6" form factor. Be able to have up to 4 computers on line at the same time, while having different levels of security set for each port.

We can install secure Wireless Access Points throughout your home or business to create a reliable wireless system. We can also supply and install routers and switches of all types and sizes.